Project Description
Events: Buxom Bettie Travel Trailer
At Faux Tattoo Studios, we love all things Retro! In 2018, we scouted out and acquired a 1969 travel trailer and spent several months gutting her and restoring her to a state of vintage beauty. Meet Buxom Bettie!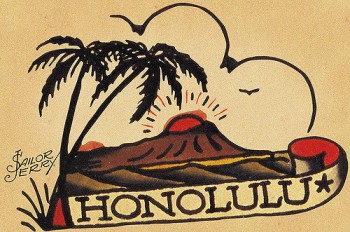 Bettie (her namesake is Bettie Page) is 16 feet from stem to stern and has two temporary tattoo stations inside and several outside under the awning on her Astro Turf roll-out lawn. The decor theme is vintage Honolulu, Sailor Jerry.
Buxom Bettie has been hired out for events in Las Vegas – both indoors and outdoors – and has been a HUGE hit. Her maiden voyage was for the 25th Anniversary Celebration for the cast and crew of Mystère™ at The Industrial Event Space. We look froward to bringing her out to music festivals in 2019 and who knows where else. We are also in the process of restoring Bettie's elder sister Bertha – a 20 foot Terry trailer of the same vintage with four tattoo station on board.
Bettie can be staged at outdoor or indoor events. Please call for more information and a technical rider.
Contact Chris or call 702-509-4990 to inquire about having her at your next event!